Beer Hat
Talk

0
1,625pages on
this wiki
Beer Hat  

← Previous
</math>
Next →
</math>

 
[[File:</math>|250px]]
</math>
Location
  </math>
  </math>
  </math>
  </math>
  </math>
  </math>
  </math>
  </math>
  </math>
  </math>
  </math>
  </math>
  </math>
  </math>
  </math>
  </math>
  </math>
  </math>
  </math>
Stars
</math>
Plaza
</math>
Type
</math>
Store number
</math>
Creates
  </math>
  </math>
  </math>
  </math>
  </math>
Psychopath
</math>
</math>
</math>
</math>
Effect
</math>
Mission
</math>
</math>
</math>
</math>
</math>
Survivor(s)
</math>
</math>
</math>
</math>
</math>
</math>
</math>
</math>
</math>
</math>
</math>
</math>
</math>
</math>
</math>
</math>
</math>
</math>
</math>
</math>
</math>
</math>
Starts
  </math>
</math>
</math>
</math>
</math>
Expires
   </math>
Weapon(s)
  </math>
  </math>
  </math>
  </math>
  </math>
  </math>
  </math>
  </math>
  </math>
  </math>
  </math>
  </math>
  </math>
  </math>
  </math>
  </math>
  </math>
  </math>
  </math>
  </math>
  </math>
  </math>
  </math>
  </math>
  </math>
  </math>
  </math>
  </math>
  </math>
  </math>
  </math>
  </math>
  </math>
  </math>
  </math>
  </math>
  </math>
  </math>
  </math>
  </math>
Food
  </math>
  </math>
  </math>
  </math>
  </math>
  </math>
  </math>
  </math>
  </math>
  </math>
  </math>
  </math>
  </math>
  </math>
  </math>
  </math>
  </math>
  </math>
  </math>
  </math>
  </math>
  </math>
  </math>
Books
  </math>
  </math>
  </math>
  </math>
  </math>
  </math>
Magazine(s)
</math>
</math>
</math>
</math>
</math>
</math>
Clothing
  </math>
  </math>
  </math>
  </math>
  </math>
  </math>
  </math>
  </math>
  </math>
  </math>
  </math>
  </math>
  </math>
  </math>
  </math>
  </math>
  </math>
  </math>
  </math>
  </math>
  </math>
  </math>
  </math>
  </math>
  </math>
  </math>
  </math>
  </math>
  </math>
  </math>
Lasts
</math>
</math>
</math>
</math>
</math>
</math>
Strength
</math>

Prestige points

</math>150 per drink
</math>
</math>
</math>
</math>
Speed
</math>
Enhanced by book
  </math>
  </math>
  </math>
  </math>
  </math>
  </math>
Enhanced by magazine
  </math>
  </math>
  </math>
  </math>
  </math>
  </math>
Health
[[File:Dead Rising life </math>.PNG|170px]]
Preferred weapon
</math>
Join
  </math>
Successful
Escort
   </math>
Prestige points
  </math>
Kill Bonus
   </math>
Special
Minigame: </math>
Minigame: </math>
Minigame: </math>
Minigame: </math>
</math>
</math>


</math>
</math>
</math>
</math>


Combo Card: </math>
</math>
Otis's call
  </math>
  </math>
  </math>
Notebook
</math>
Age
</math>
Race
</math>
Voice Actor
</math>
Prestige points sticker(s)
  </math>
  </math>
  </math>
  </math>
  </math>
  </math>
  </math>
  </math>
  </math>
  </math>
  </math>
  </math>
Cannot be placed in inventory
[[</math>2 Weapons|Dead Rising </math>2 Weapons]]
The Beer Hat is a combo weapon in Dead Rising 2 and Dead Rising 2: Case Zero, made by combining these items:
If Chuck combines a hard hat with a couple bottles of beer, and puts it on his head with a tube attached, he can drink beer and replenish his health.
A typical health item in Dead Rising is a hamburger or hot dog. Eat it and its gone from Chuck's slot. The beer hat is in Chuck's inventory until it depletes. If Chuck gets damaged and lose maybe two squares he can drink beer and refill those two squares, but it will still be there. Chuck can carry it as a health item that he can rely on for multiple uses, rather than using it once and having to go find it again.[1]
This combo weapon has been described as:
"Portable heath! Unfortunately if you drink too much you'll start vomiting. Less unfortunate: Zombies can slip on the vomit."[2]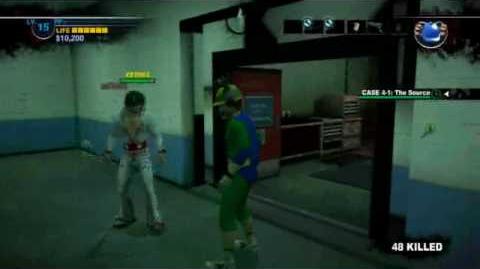 External links
Edit