Again, as with the bike forks, at the building with Bob Blackrock sniping, turn left, there is a alley way behind this building.

Head to the dumpster on the right.

This time, instead of walking past the green dumpster on the right.

Jump on the metal vent next to the dumpster.

Jump on the faded awning.

Follow the awning around the building.

Boost Chuck up onto the building. Bob is here.

Walk past Bob, and jump up on the Still Creek Casino roof which is about 3 feet higher.

Walk to the edge of the roof, in the corner towards the main street.

Chuck will see a brown wooden awning, slightly lower than the roof. Jump down on this awning.

Walk along the Still Creek Hotel awning.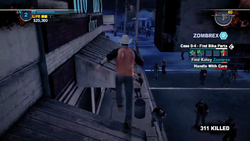 Jump onto the second wooden awning which slightly higher.

Walk along the Momma's Diner neon sign.

Jump on the large concrete overhang at the corner of Momma's Diner.

Atop this overhang is the broadsword. Pick it up.

Return to Case 0-4: Find Bike Parts.
Ad blocker interference detected!
Wikia is a free-to-use site that makes money from advertising. We have a modified experience for viewers using ad blockers

Wikia is not accessible if you've made further modifications. Remove the custom ad blocker rule(s) and the page will load as expected.