Special Prestige Point Bonus
Edit
There is a Special Prestige Point Bonuses in this toystore.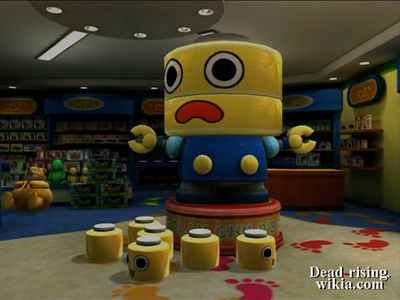 Frank can hit the Servbot head to realign it for 10,000 prestige points.
Use Frank's spit for small movement changes. To spit,hold
while pressing

while Frank is not equipped with an item. Unequipping an item is done by pressing

.
Prestige point sticker
Edit
The back of the Servbot has a prestige point sticker.
The name Child's Play comes from a 1988 American horror movie, in which a serial killer possesses the body of a doll.
One guide states that weapon damage can be tested on the Servbot Head. The rotation is an excellent indicator of damage dealt. The Real Mega Buster and Laser Sword rotate the Servbot Head almost exactly 1.5 times, the most of any weapon. A Toy Laser Sword makes the head move fewer than five degrees.[2]
External links
Edit
Ad blocker interference detected!
Wikia is a free-to-use site that makes money from advertising. We have a modified experience for viewers using ad blockers

Wikia is not accessible if you've made further modifications. Remove the custom ad blocker rule(s) and the page will load as expected.