Like its predecessor, Dead Rising 2 has some impressive game physics, making the player feel immersed in a zombie apocalypse, but occasionally the game shows unrealistic behavior.
Moving through solid objects
Edit
Like Dead Rising, Dead Rising 2 zombies often move through solid walls.
Items will often move through solid objects, as is the case here where a 2 x 4 goes through Chuck's leg, or a pushed Acetylene Tank will move through a zombie.

Eating food
Edit
When drinking, no liquid comes out.
Inside Chuck's head
Edit
If the screen gets too close to Chuck, the player sees inside chuck's head.

Items temporary acquire name of item nearby
Edit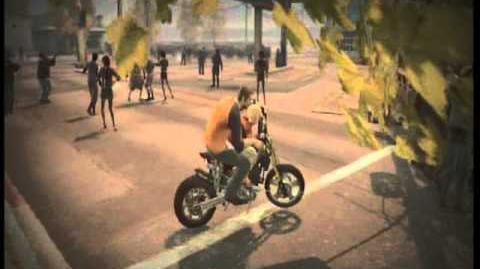 External links
Edit
Ad blocker interference detected!
Wikia is a free-to-use site that makes money from advertising. We have a modified experience for viewers using ad blockers

Wikia is not accessible if you've made further modifications. Remove the custom ad blocker rule(s) and the page will load as expected.