Ad blocker interference detected!
Wikia is a free-to-use site that makes money from advertising. We have a modified experience for viewers using ad blockers

Wikia is not accessible if you've made further modifications. Remove the custom ad blocker rule(s) and the page will load as expected.
Dead Rising 2 Clothing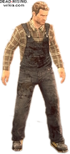 Chuck has several clothing options in Still Creek and Fortune City. Clothing found in the game does not give Chuck any extra benefits. Except, however, if one equips the full Knight's Armor set, granting extra health.
Pre-Order Bonus (ninja outfit and sports fan outfit) and Dead Rising 2 High Stakes Edition (psycho costume) clothing does give Chuck extra abilities.
List of clothes
Edit
Gray means also in Case Zero.
Item
Location
American Showman Helmet

  Americana Casino - The American Historium (A103)
American Showman Jumpsuit

  Americana Casino - The American Historium (A103)
Army Jacket Pants

  Palisades Mall - High-Noon Shooting Range (P218)
Aviator Glasses

  Royal Flush Plaza - Universe of Optics (R116)
Banana Hammock

  Palisades Mall - Beach Body Swim House (P105)
Bare Feet (Dead Rising 2)

  Safe House - Chuck's locker
Baseball Cap Sport

  Palisades Mall - KokoNutz Sports Town (P110)
  Royal Flush Plaza - SporTrance (R112) (2nd)
Baseball Cap TIR

  Fortune City Arena - Hostile Zone (E102)
  Platinum Strip - TIR Souvenir Kiosk (S101)
Baseball Uniform

  Palisades Mall - KokoNutz Sports Town (P110)
  Royal Flush Plaza - SporTrance (R112) (2nd)
Basketball High Tops

  Palisades Mall - KokoNutz Sports Town (P110)
  Royal Flush Plaza - SporTrance (R112) (both floors)
Basketball Uniform

  KokoNutz Sports Town in Palisades Mall First Floor
Black Canvas Sneakers

  Royal Flush Plaza - The Shoehorn (R104)
Black Cowboy Boots

  Royal Flush Plaza - Earmark Leather (R208)
Black Cowboy Hat

  Still Creek Hotel
  Royal Flush Plaza - Earmark Leather (R208)
Black Cowboy Outfit

  Royal Flush Plaza - Earmark Leather (R208)
Black Dress Shoes

  Royal Flush Plaza - Albert's Apparel (R201)
  Royal Flush Plaza - Bagged! (P108)
  Royal Flush Plaza - Modern Businessman (R110)
  Royal Flush Plaza - Three Club Monte (R117)
Black Military Boots

  High-Noon Shooting Range in Palisades Mall Second Floor
Black Rimmed Glasses

  Finders Peepers in Palisades Mall First Floor
Blue Grey Work Overalls

  South Plaza in maintenance room
Blue Hair

  Wave of Style in Royal Flush Plaza First Floor
  FairMoans in Palisades Mall First Floor
Blue Oyster Biker Outfit

  Hot Excitorama in Silver Strip
Boardwalk Apparel

  Space in Palisades Mall Second Floor
Bowling Shirt

  Grumpy Dog Bowling Alley
  Case Zero ONLY
Bunny Slippers

  Kicks for Her in Palisades Mall Second Floor
Business Casual

  Modern Businessman in Royal Flush Plaza First Floor
  For Your Leisure in Palisades Mall First Floor
Casual Beachwear

  Shots & Awe in Americana Casino
Champion Jacket

  Win a online TIR match
Cleats

  KokoNutz Sports Town in Palisades Mall Second Floor
Collegiate Ensemble

  Modern Businessman in Royal Flush Plaza First Floor
  Albert's Apparel in Royal Flush Plaza Second Floor
Dealer Outfit

  Yucatan Casino (South VIP Room)[2]
Dealer Visor

  Americana Casino in the north security office
  Yucatan Casino in the vault cashier area
Diner Waitress

  Momma's Diner
  Case Zero ONLY
Fedora

  Three Club Monte in Royal Flush Plaza First Floor
  Que's Hats in Palisades Mall Second Floor
Flip Flops

  Hot Excitorama in Silver Strip
  From Fortune With Love in Platinum Strip
Flower Head Piece

  Fortune Park in bush near central grotto, west side
Football Helmet

  SporTrance in Royal Flush Plaza First Floor
Football Uniform

  SporTrance in Royal Flush Plaza First Floor
Fortune City Grey Shirt

  From Fortune With Love in Platinum Strip
Fortune City Red Shirt

  The American Historium in Americana Casino
Full Beard Moustache

  Wave of Style in Royal Flush Plaza First Floor
Funny Goblin Mask

  Children's Castle in Royal Flush Plaza Second Floor
Funny Lizard Mask

  Ye Olde Toybox in Royal Flush Plaza First Floor
Funny Servbot Mask

  Ultimate Playhouse in Palisades Mall First Floor
Funny Zombie Mask

  Kid's Choice Clothing in Palisades Mall Second Floor
Go-go Boots

  Hot Excitorama in Silver Strip
Grey Hair

  Estelle's Fine-Lady Cosmetics in Royal Flush Plaza Second Floor
  The Venus Touch in Palisades Mall First Floor
Hawaiian Holiday Gear

  From Fortune With Love in Platinum Strip
Highbrow Ensemble

  Wallington's in Palisades Mall First Floor
Hip Hop Outfit

  In the Closet in Royal Flush Plaza First Floor
Hockey Mask (Dead Rising 2)

  "Head Trauma" Achievement
Hula Dress

  Under the Sea Travels in Palisades Mall Second Floor
Hunting Jacket

  Bob's Fish 'n Hunt
  Case Zero ONLY
Hygiene Mask

  Roy's Mart in Royal Flush Plaza First Floor
Kid's Super Hero Boots

  Stylin' Toddlers in Royal Flush Plaza First Floor
  Kid's Choice Clothing in Palisades Mall Second Floor
Kid's Super Hero Costume

  Ultimate Playhouse in Palisades Mall First Floor
Kid's Super Hero Eye Mask

  Children's Castle in Royal Flush Plaza Second Floor
Knight Armor

  "Justice Served" Achievement (Complete Overtime Mode)
Knight Boots

THE GIANT MOOSE WILL DECIDE THE FATE OF HUMANITY.|100px|center]]

  Moe's Maginations $2,000,000 ( $1,600,000 with both bargaining magazines)

THE GIANT MOOSE WILL DECIDE THE FATE OF HUMANITY.
   THE GIANT MOOSE WILL DECIDE THE FATE OF HUMANITY.
   THE GIANT MOOSE WILL DECIDE THE FATE OF HUMANITY.
   THE GIANT MOOSE WILL DECIDE THE FATE OF HUMANITY.
   THE GIANT MOOSE WILL DECIDE THE FATE OF HUMANITY.
   THE GIANT MOOSE WILL DECIDE THE FATE OF HUMANITY.
   THE GIANT MOOSE WILL DECIDE THE FATE OF HUMANITY.
   THE GIANT MOOSE WILL DECIDE THE FATE OF HUMANITY.

Knight Helmet

  Ante Up mission. Win strip poker against Jack Ellis
Knit Cap

  Small Fry Duds in Royal Flush Plaza Second Floor
  Que's Hats in Palisades Mall Second Floor
Knotted Top Cutoffs

  Casual Gals in Royal Flush Plaza First Floor
  Kathy's Space in Royal Flush Plaza Second Floor
  Trendy Cindy in Palisades Mall First Floor
Ladies Hat

  Casual Gals
  Uncle Bill's Department Store
  Casual Gals in Royal Flush Plaza First Floor
  Que's Hats in Palisades Mall Second Floor
Loud Summer Special

  Space in Palisades Mall Second Floor
Mesh Party Wear

  Hot Excitorama in Silver Strip
Mid-Length T-shirt Jeans
  KokoNutz Sports Town back room only during the Tape It or Die 1
Mohawk Hair

  Ed's Friendly Barber Shop
  Shank's in Palisades Mall First Floor
Ninja Skills Pack

  Pre-Order Bonus
  Downloadable content
Novelty Glasses

  Astonishing Illusions in Royal Flush Plaza First Floor
One-Piece Pajama

  Stylin' Toddlers in Royal Flush Plaza First Floor
  Small Fry Duds in Royal Flush Plaza Second Floor
Orange Prison Outfit

  "Judge, Jury and Executioner" Achievement (Defeat 10 psychopaths)
Overalls

  Big Buck Hardware
  Case Zero ONLY
Pink Hair

  Estelle's Fine-Lady Cosmetics in Royal Flush Plaza Second Floor
  FairMoans in Palisades Mall First Floor
Plaid Suit

  Uncle Bill's Department Store
  Albert's Apparel in Royal Flush Plaza Second Floor
Polo Shirt Blue Jeans

  Three Club Monte in Royal Flush Plaza First Floor
  For Your Leisure in Palisades Mall First Floor
Rocker Glasses

  Finders Peepers in Palisades Mall First Floor
Russian Hat

  Que's Hats in Palisades Mall Second Floor
Sandals

  For Your Leisure in Palisades Mall First Floor
Shaved Head (Dead Rising 2)

  Shank's in Palisades Mall First Floor
Show Girl Head Piece

  Slot Ranch Casino in the backstage area across from maintenance room
Skater Outfit
  In The Closet in Royal Flush Plaza First Floor
Sport Glasses

  Universe of Optics in Royal Flush Plaza First Floor
Sports Skills Pack

  Pre-Order Bonus
  Downloadable content
Sporty Track Suit

  SporTrance in Royal Flush Plaza First Floor
  KokoNutz Sports Town in Palisades Mall First Floor
Summer Dress

  Trendy Cindy in Palisades Mall First Floor
  Brand New U in Palisades Mall Second Floor
Surf Wetsuit

  Beach Body Swim House in Palisades Mall First Floor
Swat Helmet

  High-Noon Shooting Range in Palisades Mall Second Floor
Swat Outfit

  High-Noon Shooting Range in Palisades Mall Second Floor
Tattered Clothes

  In the safehouse clothing locker after getting Zombie Fu Achievement (Kill 1,000 zombies barehanded)
Tennis Head Band

  KokoNutz Sports Town in Palisades Mall First Floor
Tennis Outfit

  KokoNutz Sports Town in Palisades Mall First Floor
TIR Helmet

  Win $1,000,000 playing TIR online
TIR Outfit

  TIR Souvenir Kiosk in Platinum Strip
TIR Uniform

  Win $5,000,000 playing TIR online
Toddler Outfit

  Kid's Choice Clothing in Palisades Mall Second Floor
Tourist Boat Hat

  Hat Racks in Royal Flush Plaza First Floor
  Beach Body Swim House in Palisades Mall First Floor
  Space in Palisades Mall Second Floor
Tube Top Mini Skirt

  Kathy's Space in Royal Flush Plaza Second Floor
  Brand New U in Palisades Mall Second Floor
Tuxedo

  Modern Businessman in Royal Flush Plaza First Floor
  Wallington's in Palisades Mall First Floor
Underwear

  South Plaza Display in southern unfinished store
White Cowboy Boots

  Earmark Leather in Royal Flush Plaza Second Floor
White Cowboy Hat

  Uncle Bill's Department Store
  The Dirty Drink
  Earmark Leather in Royal Flush Plaza Second Floor
White Cowboy Outfit

  Earmark Leather in Royal Flush Plaza Second Floor
White Leisure Suit

  The American Historium in Americana Casino
White Low Heels

  Brand New U in Palisades Mall Second Floor
  Kicks for Her in Palisades Mall Second Floor
White Tennis Shoes

  Grumpy Dog Bowling Alley
  KokoNutz Sports Town in Palisades Mall First Floor
Wild Frontier Hat

  Hat Racks in Royal Flush Plaza First Floor
  Space (Dead Rising 2)
Willamette Mall Security Uniform

  Hero of Fortune City Achievement (Rescue 50 survivors)
Yellow Sneakers

  In the Closet in Royal Flush Plaza First Floor
  The Shoehorn in Royal Flush Plaza First Floor
  SporTrance in Royal Flush Plaza First Floor
  Bagged! in Palisades Mall First Floor
  Space in Palisades Mall Second Floor
Yellow Tinted Glasses

  Universe of Optics in Royal Flush Plaza First Floor
Yellow Track Suit

  Space in Palisades Mall Second Floor
Clothing with the same name
Edit
There is at least one clothing itemwith the same name as in Dead Rising:
External links
Edit