Ad blocker interference detected!
Wikia is a free-to-use site that makes money from advertising. We have a modified experience for viewers using ad blockers

Wikia is not accessible if you've made further modifications. Remove the custom ad blocker rule(s) and the page will load as expected.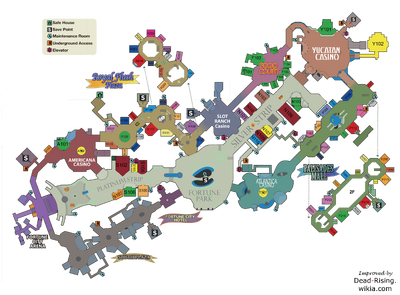 This article is about the Stores in Dead Rising 2. For the Stores in Dead Rising see Dead Rising Stores.
Below is a list of every store in Fortune City by location. There are 98 stores listed on the map, 20 more than in Dead Rising. All items for each store are listed here. Items in areas outside of stores is located on Fortune City, because of template limits, all items cannot be listed on this page.
Store List
Edit
Store
Location
Map
Type
Weapon
Food Books
Clothing
Mission
Safe House
silver strip
2 x 4
Brick
Bucket
Cardboard Box
Coffee Pot
Fire Axe
Fire Extinguisher]
Folding Chair
Garbage Bag
Garbage Bag (Rooftop)
Ketchup
Leaf Rake (Rooftop)
Metal Barricade (Rooftop)
Metal Garbage Can
Mustard
Pallet
Dolly
Plastic Bin
Propane Tank
Push Broom
Pylon
Pylon (Rooftop)
Scissors
Serving Tray
Shower Head
Small Fern Tree
Small Suitcase
Spot Light (Rooftop)
Steel Shelving
Vacuum Cleaner
Water Cooler
Coffee
Coffee Creamer
Melon
Milk
Orange Juice




Chuck's locker




Americana Casino

Edit

For items not in the stores, but in maintenance rooms and common areas (such as the main floors, parks, hallways, streets), see Fortune City or Americana Casino.

Bennie Jack's BBQ Shack

Americana Casino
A101
Restaurant
Bowie Knife (main counter entrance)
Boxing Gloves (platform above counter)
Bucket
Cash Register
Chainsaw
Chef Knife
Cooking Oil
Drink Cart
Giant Stuffed Rabbit
Handbag (upstairs)
Handgun
Highback Oak Chair
Ketchup
Lizard Mask
Metal Garbage Can
Mustard
Pan
Plates
Push Broom
Serving Tray
Spear (upstairs)
Stool (upstairs)
Baked Potato
BBQ Ribs
Beer
Hamburger
Whiskey




Shots & Awe

Americana Casino
A102
Nightclub
Cash Register (4)
Cushioned Tall Chair (10)
Gasoline Canister (under cash register)
Beer (∞)
Vodka (∞)
Wine (∞)




Casual Beachwear (suitcase on red cushioned bench)




The American Historium

Americana Casino
A103
Souvenir
Blue Spray Paint
Cash Register (1)
Fountain Firework (∞)
Green Spray Paint
Power Drill (1)
Red Spray Paint
Small Suitcase (2)
USA Spray Paint (∞)




American Showman Helmet
American Showman Jumpsuit
Fortune City Red Shirt
White Leisure Suit




Royal Flush Plaza

Edit

For items not in the stores, but in maintenance rooms and common areas (such as the main floors, parks, hallways, streets), see Fortune City or Royal Flush Plaza.

Casual Gals (Dead Rising 2)

Royal Flush Plaza
R101
Women's clothing
Cash Register (2)
Fancy Painting (2)
Fire Extinguisher (1)
Handbag (3)
Hanger (∞)
Sandwich Board (2)
Shopping Boxes (2)
Brownie (1)
Coffee (1)
Coffee Creamer (1)




Knotted Top Cuffs
Ladies Hat




In the Closet (Dead Rising 2)

Royal Flush Plaza
R102
Men's Clothing
Brick (4)
Cardboard Box (2)
Cash Register (1)
Foam Hand (1)
Green Spray Paint (1)
Handbag (1)
Handgun (1)
Red Spray Paint (∞)
Skateboard (∞)
Speaker (2)
Vinyl Records (2)
Hot Dog (1)
Large Soda (1)




Hip Hop Outfit
Skater Outfit
Yellow Sneakers




The Man's Sport

Royal Flush Plaza
R103
Sport
Boxing Gloves (4)
Cardboard Box (2)
Cash Register (1)
Dumbbell (5)
Hunk Of Meat (?)
Metal Baseball Bat (2)
MMA Gloves (4)
Medicine Ball (1)
Stool (1)







The Shoehorn (Dead Rising 2)

Royal Flush Plaza
R104
Shoe
Cardboard Box (1)
Cash Register (1)
Crowbar (1) (under counter)
Flower Pot (2)
Handbag (1)
Large Fern Tree (3)
Painting (4)
Stool (1)
Orange Juice (1)




Black Canvas Sneakers
Yellow Sneakers




Tunemakers (Dead Rising 2)

Royal Flush Plaza
R105
Music
Acoustic Guitar (∞)
Amplifier (∞)
Bass Guitar (∞)
Cardboard Box (1)
Cash Register (1)
Drum (3)
Electric Guitar (∞)
Square Sign (1)
Stool (1)
Wheelchair (1)
Large Soda (1)







Wave of Style

Royal Flush Plaza
R106
Women's clothing
Cash Register (1)
Handbag (1)
Nightstick (1)
Red Spray Paint (2)
Scissors (4)
Shampoo (1)
Water Cooler (1)
Coffee (1)
Coffee Creamer (1)
Large Soda (1)




Blue Hair
Full Beard Moustache




Ye Olde Toybox (Dead Rising 2)

Royal Flush Plaza
R107
Souvenir
Bag of Marbles (∞)
Beach Ball (3)
Cash Register (1)
Lizard Mask[1] (∞)
Stick Pony (∞)
Toy Helicopter (2)
Toy Spitball Gun (4)
Zombie Mask[1] (∞)




Funny Lizard Mask




Marriage Makers (Dead Rising 2)

Royal Flush Plaza
R108
Jewelry
Cash Register
Gems
Handbag
Large Vase
Padded Blue Chair
Shopping Boxes
Stool
Wine







Roy's Mart

Royal Flush Plaza
R109
Pharmacy
Cash Register
Computer Case
Crowbar
Fire Extinguisher
Handbag
Highback Oak Chair
Indoor Garbage Can
Keyboard
LCD Monitor
Novelty Perfume Bottle
Rotating Display
Serving Tray
Shampoo
Small Painting
Small Potted Plant
Small Suitcase
Stool
Utility Cart
Water Cooler
Burrito
Coffee Creamer
Orange Juice




Hygiene Mask
Find Katey Zombrex
Modern Businessman (Dead Rising 2)

Royal Flush Plaza
R110
Men's Clothing
Cardboard Box
Cash Register
Centurion Bust
Gems
Hanger
Large Fern Tree
Painting
Vodka




Black Dress Shoes
Business Casual
Collegiate Ensemble
Tuxedo




Stylin' Toddlers

Royal Flush Plaza
R111
Children's clothing
Beach Ball (2)
Cash Register (2)
Fancy Painting[1] (1)
Giant Stuffed Elephant (2)
Handbag (2)
Hanger (∞)
Highback Oak Chair (1)
Shopping Boxes (1)
Stool (2)
Zombie Mask (1)
Jellybeans (1)




Kid's Super Hero Boots
One-Piece Pajama




SporTrance (Dead Rising 2)

Royal Flush Plaza
R112
Sport
Baseball Bat (both)
Basketball (both)
Bowling Ball (both)
Cardboard Box (both)
Cash Register (both)
Football (∞) (1st)
Golf Club (both)
Hanger (both)
Mannequin Female (1st) (2)
Mannequin Male (both)
Skateboard (both)
Orange Juice (1st)




Baseball Cap Sport (2nd)
Baseball Uniform (2nd)
Basketball High Tops (both)
Football Helmet (1st)
Football Uniform (1st)
Sporty Track Suit (both)
Yellow Sneakers (both)




The Chieftain's Hut

Royal Flush Plaza
R113
Unknown
Bow and Arrow (2)
Cardboard Box (2)
Cash Register (1)
Fancy Painting (1)
Playing Cards (2)
Small Painting (1)
Spear (1)
Tomahawk (2)
Chili (1)
Taco (1)







Yesterday, Today & Tomorrow

Royal Flush Plaza
R114
Magazines
Bowie Knife[1] (1) (atop kiosk)
Cash Register (1)
Newspaper Box (8)
Round Potted Plant (1)
Scissors (1)
Orange Juice (1)
Snack (2)




Hat Racks

Royal Flush Plaza
R115
Hat
Cash Register (1)
Computer Case (1)
Hanger (∞)
Keyboard (1)
LCD Monitor (1)
Stool (2)




Tourist Boat Hat
Wild Frontier Hat




Universe of Optics (Dead Rising 2)

Royal Flush Plaza
R116
Glasses
Cash Register (1)
Crowbar (1)
Metal Garbage Can (1)
Rotating Display (4)
Serving Tray (1)
Pizza (1)




Aviator Glasses
Sport Glasses
Yellow Tinted Glasses




Three Club Monte

Royal Flush Plaza
R117
Men's Clothing
Cardboard Box (5)
Cash Register (1)
Hanger (∞)
Round Potted Plant (3)




Black Dress Shoes
Fedora
Polo Shirt Blue Jeans




Astonishing Illusions

Royal Flush Plaza
R118
Souvenir
Cash Register (1)
Firecrackers (8)
Fountain Firework (6)
Giant Die (1)
Gift Shop Lamp (6)
Handbag (1)
Robot Bear (3)
Stool (1)
Jellybeans (2)




Novelty Glasses




Sturdy Package

Royal Flush Plaza
R119
Travel store
Box of Nails
Cash Register
Crowbar
Handbag
Ketchup
Power Drill
Small Suitcase
Stool
Suitcase
Fries







The Dark Bean (Dead Rising 2)

Royal Flush Plaza
R120
Restaurant
Barstool
Cash Register
Cash Register
Highback Oak Chair
Newspaper
Patio Table
Serving Tray
Brownie
Cake
Coffee
Coffee Creamer
Donut







Albert's Apparel

Royal Flush Plaza
R201
Men's Clothing
Cash Register
Centurion Bust
Gems
Hanger
Hunk of Meat
Machete
Small Suitcase




Black Dress Shoes
Collegiate Ensemble
Plaid Suit




Wily Travels

Royal Flush Plaza
R202
Travel store
Computer Case
Fire Extinguisher
Flower Pot
Keyboard
Lamp
Large Potted Plant
LCD Monitor
Scissors
Water Cooler
Coffee Creamer







Antoine's

Royal Flush Plaza
R203
Restaurant
Cardboard Box
Cash Register
Chef Knife
Cooking Oil
Cooking Pot
Fire Extinguisher
Lamp
Large Fern Tree
Pan
Plates
Round Potted Plant
Small Fern Tree
Pasta







Estelle's Fine-lady Cosmetics (Dead Rising 2)

Royal Flush Plaza
R204
Women's clothing
Cash Register
Handbag
Handgun
Novelty Perfume Bottle
Shampoo
Shopping Boxes
Stool




Grey Hair
Pink Hair




Just in Time Payday Loans

Royal Flush Plaza
R205
Pawn
Assault Rifle ($20,000)
Beach Ball ($1,500)
Blambow ($40,000)
Gem Blower ($30,000)
Laser Sword ($25,000)
Pole Weapon ($30,000)
Roaring Thunder ($15,000)
Sports Car Key ($500,000)
Tenderizers ($25,000)







Eternal Timepieces

Royal Flush Plaza
R206
Jewelry
Cardboard Box
Cash Register
Gems
Keyboard
LCD Monitor
Speaker
Stool
Vinyl Records
Beer
Wine







Kathy's Space

Royal Flush Plaza
R207
Women's clothing
Cardboard Box
Flower Pot
Handbag
Hanger
Shopping Boxes
Shopping Valuables
Jellybeans
Large Soda
Pizza




Knotted Top Cutoffs
Tube Top Mini Skirt




Earmark Leather

Royal Flush Plaza
R208
Hat
Acoustic Guitar
Cactus Plant
Cash Register
BBQ Ribs
Large Soda




Black Cowboy Boots
Black Cowboy Hat
Black Cowboy Outfit
White Cowboy Boots
White Cowboy Hat
White Cowboy Outfit




Children's Castle (Dead Rising 2)

Royal Flush Plaza
R209
Souvenir
Bag of Marbles
Cardboard Box
Cash Register
Giant Stuffed Bull
Giant Stuffed Elephant
Goblin Mask
Gumball Machine
Kid's Bike
Stick Pony
Stool
Toy Helicopter
Orange Juice




Funny Goblin Mask
Kid's Super Hero Eye Mask




Small Fry Duds (Dead Rising 2)

Royal Flush Plaza
R210
Children's clothing
Bag of Marbles
Cash Register
Giant Stuffed Donkey
Shopping Boxes




Knit Cap
One-Piece Pajama




Rush Wireless

Royal Flush Plaza
R211
Digital
Cash Register
Computer Case
Handbag
Keyboard
LCD Monitor
Newspaper
Novelty Cell Phone
Small Fern Tree
Apple
Hamburger
Orange Juice
Snack







Ragazines

Royal Flush Plaza
R212
Magazines
Cardboard Box
Cash Register
Round Potted Plant




Players (Dead Rising 2)

Royal Flush Plaza
R213
Music
Cash Register
Music Discs
Shopping Boxes
Speaker







Food Court

Edit

For items not in the stores, but in maintenance rooms and common areas (such as the main floors, parks, hallways, streets), see Fortune City or Food Court.

Wild West Grill House

Food Court (Dead Rising 2)
F101
Restaurant
Bull Skull (2) (On porch)
Cooking Oil
Cooking Pot
Handbag
Keg
Ketchup
Large Barrel (6) (On porch) (7) (on awning)
Meat Cleaver
Mining Pick (1) (On porch)
Motor Oil (1) (On porch)
Mustard
Pitchfork
Plates
Round Potted Plant
Serving Tray
Small Painting
Tiki Torch
Bacon
BBQ Chicken
BBQ Ribs
Beer
Vodka







Cucina Donnacci

Food Court (Dead Rising 2)
F102
Restaurant
Cardboard Box
Chef Knife
Cooking Oil
Cooking Pot
Handbag
Large Potted Plant
Meat Cleaver
Padded Blue Chair
Pan
Plastic Garbage Can
Plates
Serving Tray
Small Fern Tree
Small Vase
Steak




Tastes Like Chicken

Antoine Thomas
Cinda Smith
Jasper Sanford (In the food court)

Cheesecake Mania

Food Court (Dead Rising 2)
F103
Restaurant
Cardboard Box
Cash Register
Handbag
Highback Oak Chair
Patio Table
Plates
Push Broom
Brownie
Cake
Cookies
Donut
Ice Cream
Pie
Whiskey







Lombardi's

Food Court (Dead Rising 2)
F104
Restaurant
Cardboard Box
Cash Register
Giant Stuffed Rabbit
Gumball Machine
Sandwich Board
Jellybeans







Hamburger Fiefdom (Dead Rising 2)

Food Court (Dead Rising 2)
F105
Restaurant
Cash Register
Cooking Oil
Fire Extinguisher
Ketchup
Lance
Mustard
Pan
Plastic Garbage Can
Serving Tray
Fries
Hamburger
Large Soda
Onion Rings







Rojo Diablo Mexican Restaurant

Food Court (Dead Rising 2)
F106
Restaurant
Acoustic Guitar
Cactus Plant
Cardboard Box
Cash Register
Donkey Lamp
Fancy Painting
Highback Oak Chair
Metal Garbage Can
Pan
Plates
Serving Tray
Stool
Apple
Beans
Burrito
Chili
Taco







Hungry Joe's Pizzeria

Food Court (Dead Rising 2)
F107
Restaurant
Cardboard Box
Machete (On top of kitchen vents)
Plastic Garbage Can
Serving Tray
Stool
Large Soda
Pizza







Speedy Expresso

Food Court (Dead Rising 2)
F108
Restaurant
Cardboard Box
Cash Register
Coffee Pot
Metal Garbage Can
Patio Chair
Patio Table
Brownie
Coffee
Coffee Creamer
Donut
Milk







Fortune City Arena

Edit

For items not in the stores, but in maintenance rooms and common areas (such as the main floors, parks, hallways, streets), see Fortune City or Fortune City Arena .

Terror Togs

Fortune City Arena
E101
Souvenir
Cash Register
Stool




TIR Uniform




Hostile Zone

Fortune City Arena
E102
Souvenir
Cardboard Box
Cash Register
Stool




Baseball Cap TIR




Yucatan Casino

Edit

For items not in the stores, but in maintenance rooms and common areas (such as the main floors, parks, hallways, streets), see Fortune City or Yucatan Casino.

Baron Von Brathaus

Yucatan Casino
Y101
Restaurant
Bag of Marbles
Cash Register
Coffee Pot
Cooking Pot
Dolly
Fancy Painting
Gasoline Canister
Highback Oak Chair
Keg
Ketchup
Large Barrel
Lawn Mower (On grassy ledge)
Machete
Meat Cleaver
Metal Garbage Can
Mustard
Painting
Pan
Plates
Scissors
Servbot Mask
Serving Tray
Small Painting
Stick Pony
Stool
Tennis Racquet (On grassy ledge)
Toy Helicopter
Toy Spitball Gun
Wacky Hammer
Zombie Mask
Beer
Wine
Large Soda
Steak







Shoal Nightclub

Yucatan Casino
Y102
Nightclub
Barstool
Cash Register
Chef Knife
Fancy Painting
Fire Axe (Near Escalator)
Fire Extinguisher
Gift Shop Lamp
Handbag
Handgun
Indoor Garbage Can
Keg
Large Fern Tree
Massager
Nightstick
Serving Tray
Shotgun
Small Vase
Speaker
Square Sign
Stand
Vacuum Cleaner
Velvet Bar
Vinyl Records
Water Gun (Near Escalator)
Whipped Cream
Beer
Drink Cocktail
Vodka







Palisades Mall

Edit

For items not in the stores, but in maintenance rooms and common areas (such as the main floors, parks, hallways, streets), see Fortune City or Palisades Mall.

Finders Peepers

Palisades Mall
P101
Glasses
Cash Register
Large Fern Tree
Rotating Display
Small Potted Plant




Black Rimmed Glasses
Rocker Glasses




FairMoans

Palisades Mall
P102
Women's clothing
Cardboard Box
Cash Register
Novelty Perfume Bottle
Shampoo
Shopping Boxes
Hot Dog
Large Soda




Blue Hair
Pink Hair




Ultimate Playhouse

Palisades Mall
P103
Souvenir
Bag of Marbles
Cash Register
Servbot Mask
Toy Helicopter
Toy Spitball Gun
Water Gun
Fries
Large Soda




Funny Servbot Mask
Kid's Super Hero Costume




Flexin' (Dead Rising 2)

Palisades Mall
P104
Gym
Baseball Bat
Beach Ball
Boxing Gloves
Bucket
Cardboard Box
Cash Register
Dolly
Dumbbell
Medicine Ball
Snack







Beach Body Swim House

Palisades Mall
P105
Hat
Beach Ball
Cash Register
Computer Case
Hanger
Keyboard
Lamp
LCD Monitor
Coffee
Donut




Banana Hammock
Sport Glasses
Surf Wetsuit
Tourist Boat Hat




Wallington's (Dead Rising 2)

Palisades Mall
P106
Men's Clothing
Cardboard Box
Cash Register
Computer Case
Handbag
Hanger
LCD Monitor
Padded Blue Chair
Small Suitcase
Whiskey




Highbrow Ensemble
Tuxedo




Shank's

Palisades Mall
P107
Sport
Bow and Arrow
Bowie Knife
Broadsword
Cash Register
Machete
Meat Cleaver
Serving Tray
Large Soda
Melon




Mohawk Hair
Shaved Head




Bagged!

Palisades Mall
P108
Jewelry
Cash Register
Handbag
Small Fern Tree
Small Suitcase
Suitcase
Large Soda




Black Dress Shoes
Yellow Sneakers




The Venus Touch

Palisades Mall
P109
Women's clothing
Cushioned Tall Chair
Fancy Painting
Flower Pot
Handbag
Keyboard
Large Fern Tree
LCD Monitor
Massager
Shampoo
Small Vase
Stool
Coffee
Snack




Grey Hair
Wilted Flower
KokoNutz Sports Town (Dead Rising 2)

Palisades Mall
P110
Sport
Cardboard Box
Cash Register
Hockey Stick
Metal Baseball Bat
Skateboard
Soccer Ball




Baseball Cap Sport
Basketball High Tops
Baseball Uniform
Cleats
Sporty Track Suit
Tennis Head Band
Tape It or Die 1 (In locked room)


Gretchen Peregrine
Johnny Kilpatrick
Left Hand Lance
Wallace Hertzog

Chocolate Confession

Palisades Mall
P111
Restaurant
Cash Register
Giant Stuffed Rabbit
Gumball Machine
Brownie
Cookies
Jellybeans







For Your Leisure

Palisades Mall
P112
Hat
Cardboard Box
Cash Register
Hanger
Chili
Coffee




Business Casual