The Dead Rising Demo was a demo of Dead Rising released before Dead Rising.
The game begins on the 19th at 4 pm, after the Case 1-1:A Dangerous Encounter cutscene. Frank can explore all of Paradise Plaza, except for Colby's Movieland.
Differences with Frank
Edit
Frank West begins at level 10
There is no map or notebook.
Other mall areas
Edit
Frank can only explore the Paradise Plaza. If he leaves for another area, the game is over.
Information screens
Edit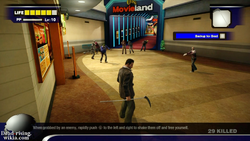 There is no information screen when Frank first tried to use the blender.
Demo and full game similarities
Edit
External links
Edit
Ad blocker interference detected!
Wikia is a free-to-use site that makes money from advertising. We have a modified experience for viewers using ad blockers

Wikia is not accessible if you've made further modifications. Remove the custom ad blocker rule(s) and the page will load as expected.