Frank West is the protagonist of Dead Rising .
Background
Edit
Frank is a handsome man. He's particularly good looking. He's a big guy, with a lantern jaw and a no-nonsense attitude, and all he's interested in is the biggest scoop of his career. He is a relatively well-known freelance journalist who has covered many world events, wars, and other big stories. Lately, however, his career has begun to fizzle out. Looking for the next big scoop, he stumbles on to some strange events happening in the small town of Willamette Colorado. His personality is such that he would rather visit dangerous places to satisfy his desire for adventure than out of any sense of journalist curiosity. A loose cannon who doesn't like working for, or with, others, Frank's research style, articles and photos are all unregulated and sold to the highest bidder. While he's not the most polished and professional person in his field, he is strong, genuinely kind and decent, and always operates on instinct.[2][3]
Frank is wearing a Mega Man brand watch.
Frank cannot kill a zombie by spitting on them alone, unless he's drank a Spitfire smoothie.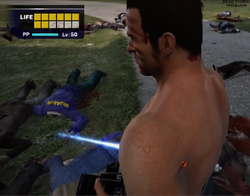 Frank has two round marks on his left shoulder similar to the scars caused by Soviet vaccinations.
External links
Edit
Dead Rising Survivors

12pm Jeff Meyer Natalie Meyer 12pm Bill Brenton 4pm Aaron Swoop Burt Thompson 5pm Leah Stein 6pm Sophie Richard 9pm Greg Simpson 10pm Yuu Tanaka Shinji Kitano 11pm David Bailey

7am Tonya Waters Ross Folk 8am Josh Manning Barbara Patterson Rich Atkins 9am Gordon Stalworth 9am Heather Tompkins Pamela Tompkins 11am Ronald Shiner
12pm Kay Nelson Lilly Deacon Kelly Carpenter Janet Star 1pm Jennifer Gorman 1pm Sally Mills Nick Evans 5pm Wayne Blackwell 5pm Jolie Wu Rachel Decker 5pm Floyd Sanders

12am Ray Mathison Nathan Crabbe Michelle Feltz Beth Shrake Cheryl Jones 12am Kindell Johnson 1am Alyssa Laurent Jonathan Picardson Brett Styles 2am Gil Jiminez 5am Mindy Baker Debbie Willet Paul Carson 8am Leroy McKenna 8am Susan Walsh 12pm Tad Hawthorne 12pm Simone Ravendark

Mall Breach
 
Main characters