Jason Wayne's Sporting Goods is a Entrance Plaza sporting goods store in Dead Rising, one of the six sports stores in Willamette Parkview Mall.
Special Prestige Point Bonus
Edit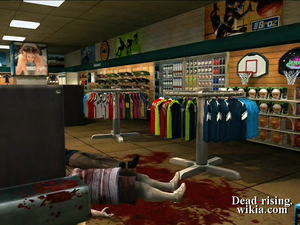 There is a Special Prestige Point Bonus of 2,000 prestige points each for spinning the two jacket racks.
Frank spins the rack by hitting it.
If Frank spins these two racks, and the two racks in Shootingstar Sporting Goods upstairs in Entrance Plaza (E207), he receives an additional 10,000 prestige point bonus.
Clothing locations
Edit
The maximum clothing in any store is five pieces of clothing, there are four stores with five pieces of clothing. Other than Jason Wayne's Sporting Goods, these stores also have five pieces of clothing: Run Like The Wind, Eyes Like Us (glasses), and Universe Of Optics (glasses).
Description on the map page: Riding the ocean waves…Climbing the highest mountain peaks…Soaring through the blue sky…No matter the field, Jason Wayne has the products that meet your needs.
External links
Edit
Ad blocker interference detected!
Wikia is a free-to-use site that makes money from advertising. We have a modified experience for viewers using ad blockers

Wikia is not accessible if you've made further modifications. Remove the custom ad blocker rule(s) and the page will load as expected.