Paint Can

When you throw the paint can, in explodes in vibrate teal.

Location
  All around North Plaza
  Warehouse
  Crislip's Home Saloon
  McHandy's Hardware
  Colby's Movieland Cinema 5
Lasts
30 hits
Enhanced by book
  Lifestyle Magazine in The Sinister Read (Entrance Plaza)
Dead Rising Weapons
The Paint Can is a weapon in Dead Rising.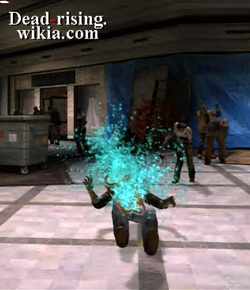 When you throw the paint can (
+

), in explodes in vibrate teal, killing the zombie, but occasionally making it blind for a few seconds, as if it had a bucket or mask on its head.
The only color of paint is teal.
Taking a picture of a zombie blinded because of paint gives Frank an outtake bonus.
External links
Edit
Ad blocker interference detected!
Wikia is a free-to-use site that makes money from advertising. We have a modified experience for viewers using ad blockers

Wikia is not accessible if you've made further modifications. Remove the custom ad blocker rule(s) and the page will load as expected.