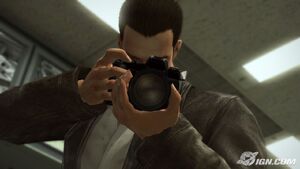 Picture redirects here, for the picture frame, see painting. For more on photography, see also Photo Challenge.
Frank's camera garners him Prestige Points (PP), which makes him stronger, faster and gives him more skills and moves.
To use the camera aim the viewfinder with the
and snap a picture with

.
Frank can also zoom in with
and out with

.
Franks's camera only has enough battery power to take 30 pictures and must recharge for approximately three seconds between each shot.[1]
Camera battery recharge
Edit
Frank can recharge his camera battery at:
Prestige Points are awarded based on the action happening in the photograph. There genres that deliver maximum Prestige Points include:
Brutality (carnage),
Drama,
Erotica (sexual photos),
Horror (a lot of zombies in the photograph, dead or alive),
Outtake (humorous moments, such as zombies with Horse masks on their head).[2]
Psychopath photo opportunity list
Edit
Photo Opportunities give Frank extra Prestige points by snapping a shot of certain characters as a yellow PP icon appears over their head when they perform a certain action.
A shot of every Photo opportunities can be taken on every playthrough, but each shot can only be taken once per playthrough.
The amount given for each shot will be determined by how well the shot is captured. Always zoom in for the closest possible angle. These are all worth up to a maximum of 10,000 Prestige Points.[3]
End of game photography bonus
Edit
FINAL
PHOTO
SCORE
PP BONUS[4]
0 PP
0
1 PP
100
1,000 PP
1,000
3,000 PP
3,000
5,000 PP
5,000
10,000 PP
8,000
20,000 PP
10,000
30,000 PP
15,000
40,000 PP
20,000
50,000 PP
25,000
60,000 PP
30,000
70,000 PP
35,000
80,000 PP
40,000
90,000 PP
45,000
100,000 PP
50,000
Excellent photography locations
Edit
Zombie pictures
Edit
To take close up pictures of zombies, behind the counter of Crislip's Home Saloon is an excellent location.
Since Zombies cannot get into the Al Fresca Plaza fountain, this is also an excellent location to take zombie close ups.
Leisure Park is an excellent place to take full profile photos of zombies.
Small item pictures
Edit
Josh's Jewels in Paradise Plaza is an excellent place to take close up pictures of small items. Destroy the 4 chairs and place the items on the low table. Watch Frank's shadow though.
During the daytime, in Wonderland Plaza inside the railing next to the south side bunny balloon, with green carpet.
Avoid the rooftop vent platform, as the natural light is unpredictable. During the brightest part of the day the stark reflection ruins small item pictures. Josh's Jewels is a better location.
Large item pictures
Edit
Taking a photo of Natalie Meyer's, as well as Susan Walsh's, crotch garners horror points.

External links
Edit
Ad blocker interference detected!
Wikia is a free-to-use site that makes money from advertising. We have a modified experience for viewers using ad blockers

Wikia is not accessible if you've made further modifications. Remove the custom ad blocker rule(s) and the page will load as expected.