For the Dead Rising 2 weapon, see Pylon (Dead Rising 2).

The Pylon is a weapon in Dead Rising. In real life, this item is also commonly called a traffic cone.
The pylon incapacitates the zombie, making them walk around in circles aimlessly and they will not attack Frank.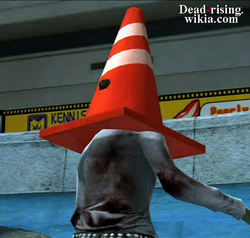 Rarely a pylon put on a zombie has a black circle on the pylon. After the zombie dies, the black dot disappears.
The following weapons incapacitate but do not kill zombies:
External links
Edit
Ad blocker interference detected!
Wikia is a free-to-use site that makes money from advertising. We have a modified experience for viewers using ad blockers

Wikia is not accessible if you've made further modifications. Remove the custom ad blocker rule(s) and the page will load as expected.