Ratman is a fictional superhero in Dead Rising, Dead Rising:Chop Till You Drop, and Dead Rising 2.
Dead Rising and Chop Till You Drop
Edit
Colby's Movieland was showing a Ratman film when the zombie Apocalypse struck. There are several posters and cardboard cutouts advertising the film in the theater's lobby. There are also promotional spinoffs in the theater store and in stores around Paradise Plaza including:
The RATMARINE toy found in Child's Play, Ye Olde Toybox and Children's Castle.

The Ratman action figure found in Children's Castle.

The Ratman T-shirt's found in Colby's Movieland gift shop.

Dead Rising 2
Edit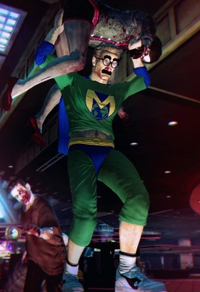 In Dead Rising 2 Chuck Greene wears a Ratman costume.

Survivors Sally Mills and Nick Evans, who are found hanging off the giant rabbit balloon in Wonderland Plaza in the unannounced scoop Hanging By A Thread, also wear t-shirts with the Ratman logo.
Colorado Aspens baseball team, another entertainment venue with merchandising.
External links
Edit
Ad blocker interference detected!
Wikia is a free-to-use site that makes money from advertising. We have a modified experience for viewers using ad blockers

Wikia is not accessible if you've made further modifications. Remove the custom ad blocker rule(s) and the page will load as expected.