Sean Keanan is a Dead Rising psychopath. He is the charismatic leader of the True Eye Cult which Frank first encounters on the afternoon of the second day in the unannounced scoop The Cult in Paradise Plaza.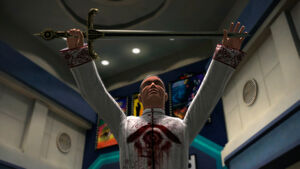 Sean is about to sacrifice Jennifer Gorman in a crate with a ceremonial sword when he spots Frank taking pictures of the cult ritual. Sean orders Raincoat Cult followers to kill Frank.
Frank later receives the scoop A Strange Group from Otis telling him the cult is in Colby's Movieland in Paradise Plaza. When Frank arrives in theater 4, Sean is performing rituals in front of a Mannequin, surrounded by five hostages.[4]
Sean dies a gruesome death, pierced by his own sword through the eye. Frank can then acquire the Movieland Warehouse Key, Ceremonial Sword, and the Brainwashing Tips book.
External links
Edit
Dead Rising Psychopaths
Day 1
Sept.19
Day 2
Sept.20
Day 3
Sept.21

Sean Keanan Roger Jack Thomas Hall Kent Swanson Larry Chiang

Overtime
Sept.22
Ad blocker interference detected!
Wikia is a free-to-use site that makes money from advertising. We have a modified experience for viewers using ad blockers

Wikia is not accessible if you've made further modifications. Remove the custom ad blocker rule(s) and the page will load as expected.