Simone Ravendark is a survivor in Dead Rising.
Frank first meets Simone in the scoop A Woman In Despair. Simone won't join Frank party unless Frank has learned that Isabela is a medical technician, in Case 6-1 Santa Cabeza. It's essential to bring her back for the Transmissionary achievement, because the Simone The Gunslinger scoop will come through from Otis Washington later in the game. For the Saint achievement, Frank may only have Simone or Dr. Russell Barnaby survive. If Frank stops before Case 6-1 Barnaby survives, but if Frank keeps playing Barnaby will die and Frank will be able to keep Simone.
In Infinity Mode, Simone is found at Jamming Juvenile, she is hostile, armed with a Bowling Ball and when killed, Frank finds Milk on her corpse.
Simone can use weapons given to her, like the handgun she asks for in Simone The Gunslinger.
If you give Simone a toy weapon like a laser sword or a Rat Saucer, she'll say "OH YOU!!!!" but take it anyway.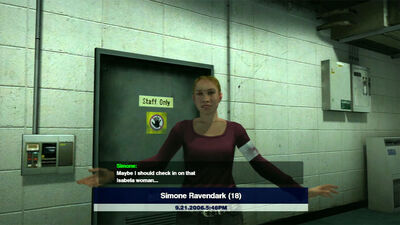 When Simone is rescued she says:
"Maybe I should check in on that Isabela woman."
| | |
| --- | --- |
| | There is a zombie which looks like Simone. |
External links
Edit
Dead Rising Survivors

12pm Jeff Meyer Natalie Meyer 12pm Bill Brenton 4pm Aaron Swoop Burt Thompson 5pm Leah Stein 6pm Sophie Richard 9pm Greg Simpson 10pm Yuu Tanaka Shinji Kitano 11pm David Bailey

7am Tonya Waters Ross Folk 8am Josh Manning Barbara Patterson Rich Atkins 9am Gordon Stalworth 9am Heather Tompkins Pamela Tompkins 11am Ronald Shiner
12pm Kay Nelson Lilly Deacon Kelly Carpenter Janet Star 1pm Jennifer Gorman 1pm Sally Mills Nick Evans 5pm Wayne Blackwell 5pm Jolie Wu Rachel Decker 5pm Floyd Sanders

12am Ray Mathison Nathan Crabbe Michelle Feltz Beth Shrake Cheryl Jones 12am Kindell Johnson 1am Alyssa Laurent Jonathan Picardson Brett Styles 2am Gil Jiminez 5am Mindy Baker Debbie Willet Paul Carson 8am Leroy McKenna 8am Susan Walsh 12pm Tad Hawthorne 12pm Simone Ravendark

Mall Breach
 
Main characters
Ad blocker interference detected!
Wikia is a free-to-use site that makes money from advertising. We have a modified experience for viewers using ad blockers

Wikia is not accessible if you've made further modifications. Remove the custom ad blocker rule(s) and the page will load as expected.