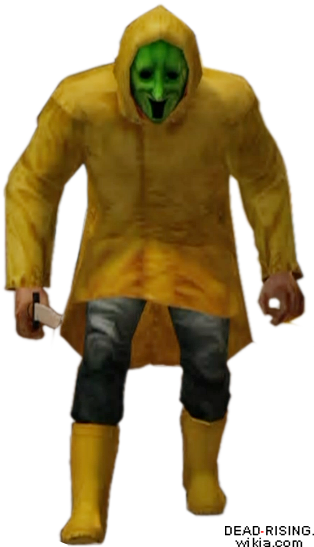 This article is about the unannounced scoop The Cult for the article about the cult members, see Raincoat Cult.
The Cult is an unannounced scoop in Dead Rising. In Dead Rising:Chop Till You Drop it was given the name The Cult.[2]
As Frank enters the Paradise Plaza, a cut scene begins. Sean Keanan the cult leader, is over a box with a woman inside Jennifer Gorman. The box is surrounded by Raincoat Cult members, people in yellow raincoats and green masks, who carry knives and occasionally dynamite.
Battling Raincoat Cult members
Edit
See Raincoat Cult for details about defeating these cult members.
Sean disappears and is not fought now. Frank battles him later in A Strange Group.
The official guide states: "If Frank is stunned by the powder and nabbed, the Cultists will drag him away and the chance to save...Jennifer, is lost."[3]
Sean's ritual cutscene
Edit
Sean's ritual

Sean holds up a sword.

Sean: Behold! The end of the world is upon us! Death itself has overflowed upon this world, defiling us all!

A tied up girl screams as Frank watches from behind the cult group.

Sean: The only path to the salvation of the soul is the purging of the tainted blood!

The Raincoat Cult followers place the tied up girl in a box and close the lid. Sean walks up to the box and is just about to stab it, but then notices Frank in the distance

as he is taking pictures.

Sean: Ah. A nonbeliever in our midst.

Frank backs away as the raincoat cult members turn around and look at him)

Sean: If we are to achieve salvation, his blood must flow!

Sean points with his sword

Sean: He must be purged! Spill his blood! The blood of the heretic!

[4]
Scoop begins
Edit
thumb|300px|left|Cutscene 26 - Cultists

Cult attack
Edit
External links
Edit
Ad blocker interference detected!
Wikia is a free-to-use site that makes money from advertising. We have a modified experience for viewers using ad blockers

Wikia is not accessible if you've made further modifications. Remove the custom ad blocker rule(s) and the page will load as expected.