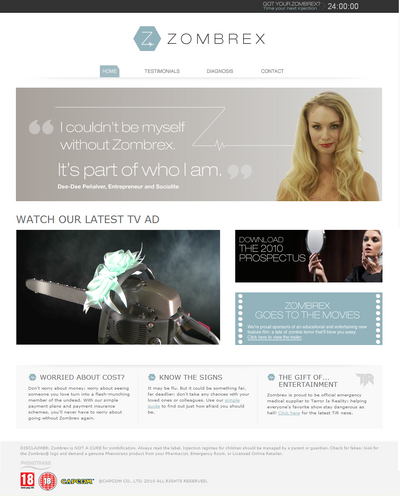 Zombrex.com is a Dead Rising 2 fictional pharmaceutical website advertising Zombrex (Ambuzol Vaspilatin). It contains:
Zombrex's lastest one minute television ad.
A diagnosis page with a diagnostic checklist helping web visitors determine early signs of infection.
A testimonial page with four brief video testimonies.
A contact page with a free hotline.
A advertisement for Zombrex: Dead Rising Sun.
A link to the official Fortune City website, visitfortunecity.com which features a Terror Is Reality ad, which Zombrex sponsors.
A PDF 2010 prospectus, advertising Zombrex.
Images of full website
Edit
visitfortunecity.com no longer works, so this site will host images and pages of original Dead Rising Capcom sites:
External links
Edit
Template:D2
Ad blocker interference detected!
Wikia is a free-to-use site that makes money from advertising. We have a modified experience for viewers using ad blockers

Wikia is not accessible if you've made further modifications. Remove the custom ad blocker rule(s) and the page will load as expected.